GURINPA special dog run "Tenku no Dog Park"
Our dog run products have been installed in a special dog run "Tenku no Dog Park" in the amusement park "Gurinpa" in Susono City, Shizuoka Prefecture.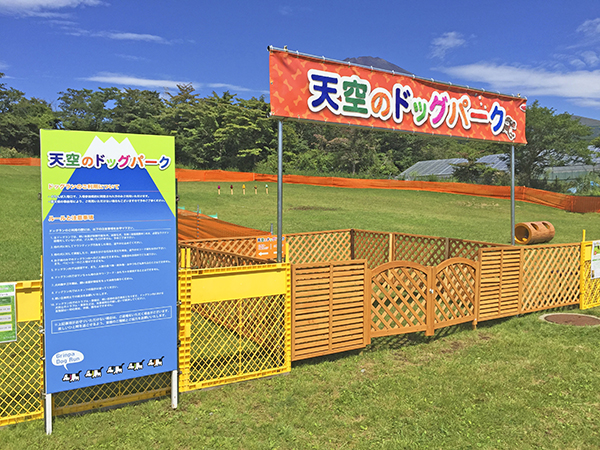 About Gurinpa "Tenku no Dog Park"
The amusement park "Gurinpo" is located at the second station of Mt. Fuji in Susono City, Shizuoka Prefecture.
From Saturday, August 22, 2015 to Tuesday, September 29, 2015 ※ For a limited time until closed days, the "Bow Wow Festival in the Sky" (Tenku no Dog Parkis) held together with a doggy to enjoy flowers and enjoy at an amusement park. It is possible to enter the park with a lead, and four types of attractions are available. There is a special dog run "Dog Park in the Sky" in which we have installed our dog run products. The place is the second lawn open space.
Large・medium dog area: 5 items (1,905㎡)
Small dog area: 4 items (824㎡)
The environment is easy to use because the area is divided into large and small dogs.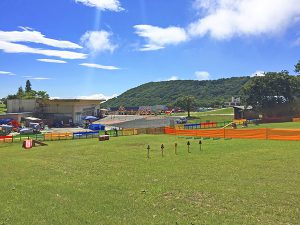 Playground equipment < Grass hurdle・Mushroom slalom >
A grass-shaped hurdle and mushroom-shaped slalom.
The grassy hurdles come in three different heights and are made of rubber, so you don't have to worry about injuries if your feet get stuck. The mushroom slalom is colorful and stand out. There is no doubt about the topic of the event.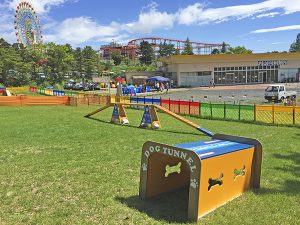 Agility < Walk Tunnel >
A permanent agilities are walk and tunnel.
The climbing surface of the walk is non-slip, so you do not have to worry about slipping. There are two types of tunnels for small dogs and large dogs. In addition, there is a bone-shaped viewing window on the side, so it is also recommended for dogs who are not good at dark places.
Agility < Slalom table >
Agility slalom and table for outdoor permanent installation.
The standard distance between the zigzag and the slalom passing through is 0.6 to 1.5 m. Flags can also be created in the original. The table is for the doggy to sit on and lie down. In addition, because this is also non-slip specification, when jumping, it demonstrates the effect of anti-slip.
Click here for more information on Gurinpa " Dog Run in the Sky "