Aeon Pet Nara Tomigaoka Store, Fujinomiya Store Indoor Dog Run
Dog run facilities were delivered to AEON MALL Nara Tomigaoka store in Ikoma city, Nara prefecture and AEON PET (Petemo PeTeMo) in AEON mall Fujinomiya store in Fujinomiya city, Shizuoka prefecture.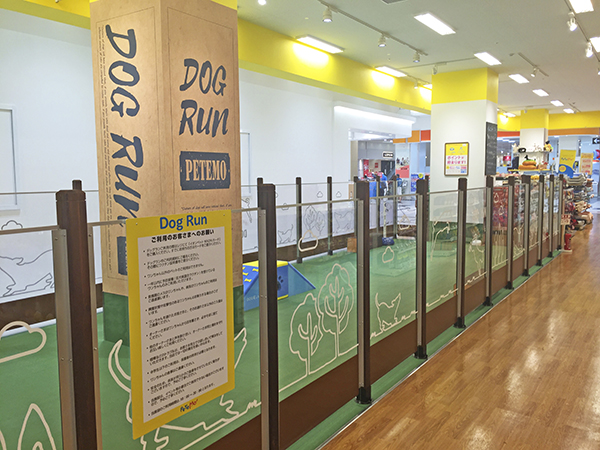 About AEON PET "PeTeMo"
AEON PET is a company that operates a pet shop, animal hospital, trimming, and retails pet food and supplies in a shopping center operated by the AEON Group. PeTeMo is a brand that AEON PET is newly developing.
Along with this renewal, AEON PET Nara Tomigaoka will be reopened at " Petemo Nara Tomigaoka " from July 16 and AEON PET Fujinomiya will be reopened at " Petemo Fujinomiya " from July 22 with a new indoor dog run was added.
Polyca fence
The fence is made of a polycarbonate resin plate. This polycarbonate is a hardened type that is resistant to scratches and has excellent weather resistance, making it hard for scratches to be made even if the dog scratches it. In addition, since it is a clear board, you can check the inside of the dog run from the outside, and you can create a cute and fun image of the dog run by sticking the illustration sheet on polycarbonate. The dog run itself is also widely felt and gives a bright image even indoors
Dog run entrance gate
By installing an entrance gate, dog runs can be viewed from a distance, making the entrance easier to understand.
Toy walk
Indoor agility playground equipment made of lightweight, flexible and elastic EVA resin. When disassembled, it can be used as an A ramp and a tunnel, so it has expandability and can be played in various ways. Since it is a light and soft foam material, you can play safely indoors without damaging the flooring and walls.
Stump bench
This bench is a polyurethane material that has been specially processed from Styrofoam, and is coated with a grain-treated sheet. It's like a piece of wood, but it's cushioned because urethane foam is under the sheet.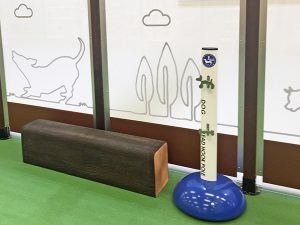 Lead hook pole oval < normal type > Stationary type
It is a lead hook pole for holding the dog's lead string. It can be moved, and can be used up to a dog weighing up to 20 kg.