AEON MALL Futtsu Pet's Village KUROSU Dog Run
We have set up a dog run facility at Pet's Village KUROSU at the "AEON MALL Futtsu Store" in Futtsu City, Chiba Prefecture.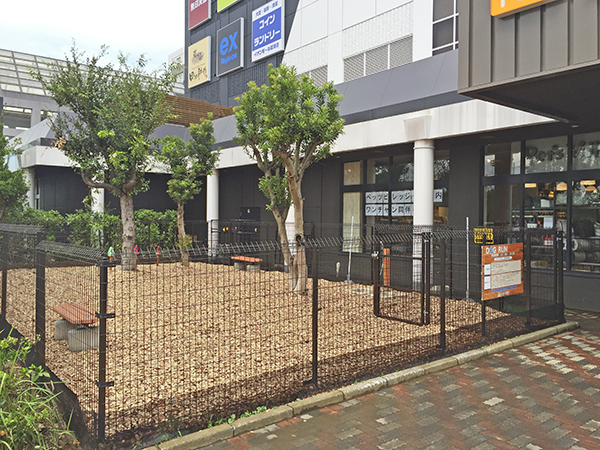 About Pet's Village KUROSU
Japan's largest pet net shop opens its first real store.
Pets Village Cross, a pet genre award received six times, opened at Aeon Mall Futtsu on September 19th.
"Pez Village Cross" offers a number of comfortable goods that support pets. We have a wealth of goods not only from Japan but also from other countries that are advanced pets.
The dock run is available from 10:00 to 19:00 and is a paid dog run.
Wood chips (paving materials)
The wood chips are made of cypress, which feels like a "good scent of wood." This scent absorbs and deodorizes odors caused by urine and moisture and has fungicidal and antifungal effects.
The scent of this cypress comes only from the leanness of the center of the tree, but our wood chips use only the center of the tree. In addition, sharp wood chips are not used, and they can be used safely in dog runs. They use only domestic timber and can be used with confidence.
Mushroom slalom
It is a playground equipment where the dog passes zigzag between mushrooms on the right and left. Colorful and cute mushrooms stand out even in dog runs.
Shower Place < Rev Wood Type >
The faucet pillar is made of artificial wood and has excellent weather resistance and keeps the gentle texture and warmth of wood forever. The pan is easily sized for large dogs and has a playful design with cute dog footprints on the bottom.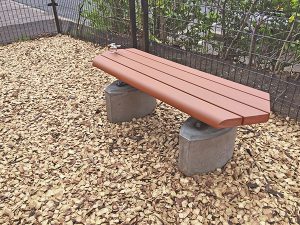 Dog bench < Run dog hook >
Recycled wood is used for the seat plate, making it harder to scratch, crack, and corrode. In addition, a stainless-steel lead hook is attached so that the owner and the dog can take a break together.
Terms of use sign
Pez Village's original usage rule sign that matches the image of the store! It is attached to the dog run entrance fence to prevent troubles and accidents between customers in the dog run.