Dio World Yokkaichi ARK Animal Hospital
Installed flushing pee pole, poop box, lead hook pole in arc animal hospital of Dio world Yokkaichi in Yokkaichi-shi, Mie.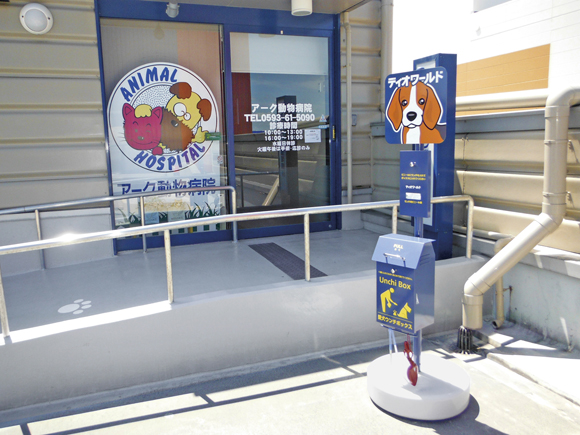 About ARK Animal Hospital
A large hardware store run by Ayahadio
Delivered to ARK Animal Hospital on the 2nd floor of "Dio World".
It is a wonderful owner who considers the position of the patient because it is set up for those who come to the hospital in front of the veterinary hospital.
Poop box < Post type >
This big beagle's signature is also an original product from the customer! Original Version ♪ ~
The upper box contains a plastic bag, and the lower box is a pole-integrated pouch box that can throw away the plastic bag containing the poop. This time, it is stationary, so it can be mov
Lead hook pole < Wrapping type >
Lead hook pole for connecting dogs. Designed using the illustration of a beagle on a pouch box and a flush pee pole. The only one original in the world is also attached!
ARK Animal Hospital is in collaboration with Takahashi Animal Hospital Group's Yokkaichi Branch in Shijonawate, Osaka.
I have. If you are looking for a veterinary hospital in your neighborhood, please use this.
Click here for ARK Animal Hospital