Chuo Expressway / Dangozaka SA Dog Run
The original dog run was renewed and reborn as a completely new dog run. With this renewal, our dog run products have been installed in various ways.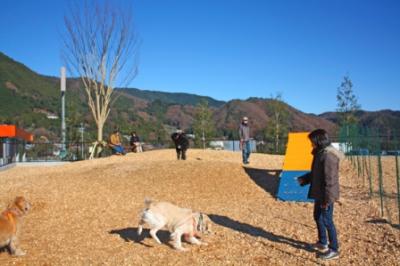 About Chuo Expressway and Dangozaka SA
EXPASA Danrigaza, which has become a multi-purpose commercial facility, is a stylish space, with a variety of new shops open and a lot of delicious items being sold, making it a very enjoyable service area. The information corner "DAN-GO Tourist Guide" has been set up as a very convenient, traveler-friendly service space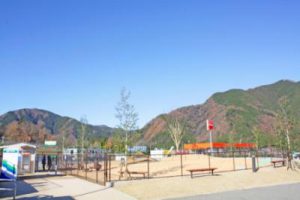 The dog run has also been renewed and reborn as a large dog run for small dogs and large dogs that exceeds 600 m2. Located on the north (Yamanashi) side of the SA commercial facility building.
Entrance is an easy-to-use facility with clay paving, toilets, trash bins, foot washing areas, and benches with lead hooks, while retaining the remnants of the pet hot area.
The dog run space is divided into a large・medium dog area and a small dog area, so both can be played with peace of mind.
A total of wood chips (eucalyptus + cypress), clean dog run with excellent cushioning and insect and deodorant effects.
In the field of agility equipment, A lamps and hurdles, and gently sloped fields, dogs on the drive can release stress by having fun playing with their owners.
A bench and a lead hook are installed around the dog run fence. You can spend comfortably as an audience seat. If the weather is good, you can see the head of Mt. Fuji in the distance.
A new dog run that takes care of dogs and their owners ♪
When you drive along Chuo Expressway, please drop in and enjoy a dog run and shopping.