Ise Expressway・Ano SA Dog Run
December 23, 2011 (holiday) Ano service area down line has been reopened. The dock run was equipped with our first flush dog toilet (pee pole with shower) on the expressway.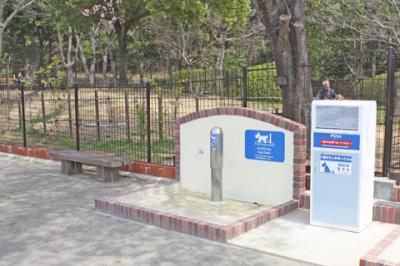 At the food court, you can enjoy a variety of noodles such as original ramen, udon and soba unique to Anno SA.
The dog run is divided into two for free space and small and medium dogs
Dogs are also OK on the open terrace.
In front of the dog run area, we have set up our dog's wee trash can with a shower pee pole, which is the first of our expressways, with a function to prevent odors.
Pee pole with shower
After the dog pee, press the button on the pole to flush the water. Because it is washed with water, it does not smell dog pee and is clean.
The water stops automatically after a certain period of time, so there is no need to worry about leaving the water flowing.
Pet poop BOX (with manner box)
It is a trash box for dogs that can be used hygienically without odor leakage.
With a double lid structure, the second lid remains closed even when the first lid is open
Does not leak internal odors
The manner box above the garbage can store plastic bags or scoops for poops.
The lid is made of polycarbonate so that the inside is easy to see and has excellent durability.
A new dog run that takes care of dogs and their owners ♪
When you drive along the Ise Expressway, be sure to stop by and enjoy a dog run and shopping.