Minami Machida Grand Berry Park "Dog Sanitation Facility Set"
GRAND BERRY PARK, Tsuruma, Machida-shi, Tokyo reopened on Wednesday, November 13, 2019. We delivered a dog toilet, dog shower, and poop box exclusively for pets at this facility at Granbury Park.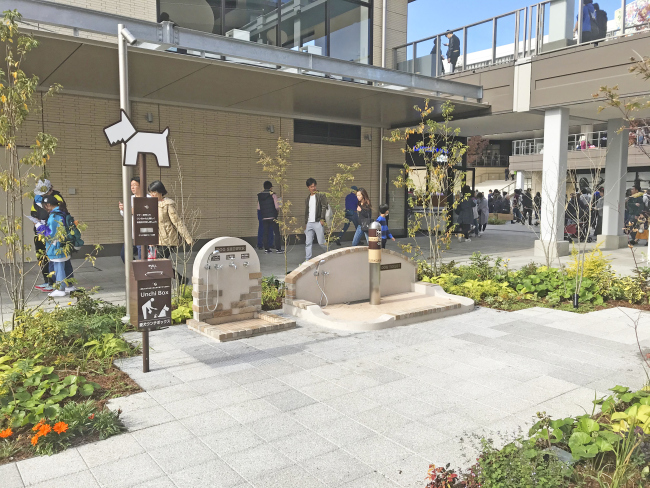 About Minamimachida Grand Berry Park
This Minamimachida Grand Berry Park consists of the nearest station, Minamimachida Grand Berry Park Station, a city park called Tsuruma Park, and a commercial facility called Grand Berry Park. The store area is 53,000 square meters, and 234 tenants are open. Out of all Grand Berry Park stores, 40% are outlets and 30% are food and beverage sales. Minamimachida Grand Berry Park has seven outdoor plazas where you can feel the rich nature and enjoy a variety of people, including families, couples and pets.
Dog sanitation facility set
<Toilet, shower, poop box>
Grand Berry Park is a pet-friendly shopping mall with a dog toilet, dog shower, and poop box as a "dog hygiene facility set".
Washing your dog's feet, peeing, and throwing away poo garbage can help your pet's hygiene.
It is installed in the following three areas in Grand Berry Park.
【Installation location】
・Grand Berry Plaza East
・Grand Berry Plaza West
・ In front of Dog & Cat Joker
For each area, the colors of the tiles and poop boxes are changed according to the scenery of the area, and it is a special specification for Granbury Park.
* The available time of this facility is from 10:00 to 20:00.
Dog toilet < Washing pee type >
After the dog has pee, press the button on the pole to flush the water and wash the dog's pee. Since the water stops automatically after a certain time, there is no need to worry about keeping it flowing.
An etching sign has been added to the wall as a special order for Granbury Park to make it easier for users to understand.
Dog shower < Grand Berry Park original >
It is a dog shower with original design of Grand Berry Park.
There are three types of washing: "Shower", "Hand washing" and "Foot washing".
When you turn the handle of "Foot wash", water flows under your feet and you can wash the feet with the dog standing.
As a special order of Grand Berry Park, a sign of etching and a sign above each washing are added.
Poop box < Post type >
It is a trash can to put a pet poop.
The upper box contains a plastic bag, and the lower box is a pole-integrated pouch box that can throw away the plastic bag containing the pouch.
The big dog pictogram is a landmark, making it easy to find in Granbury Park.
Each area of Grand Berry Park is colored brown and black to match the surrounding landscape.
Since there is Tsuruma Park next to Granbury Park, there are shops where the dogs are happy, cafes where you can eat together, and so on.
If you are coming, please drop by Granbury Park with your dog!