New Tomei Expressway / NEOPASA Suruga Bay Numazu Dog Run
Shinken Industrial Co., Ltd. DOG-LABO provided consulting, construction and product delivery for the new Tomei Expressway "NEOPASA Surugawan Numazu" dog run.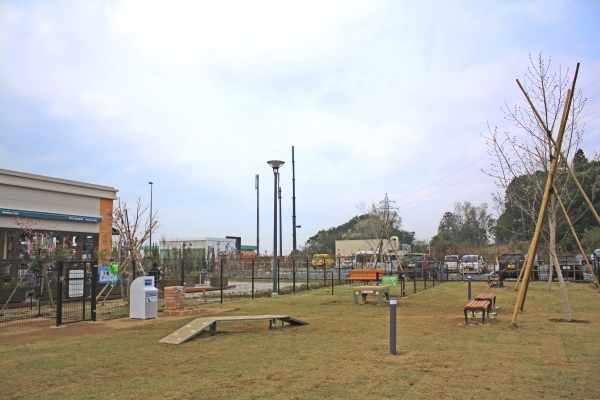 About NEOPASA Suruga Bay Numazu [Resort Mind]
Both the up and down lines are the only areas that can overlook the sea of Suruga Bay in Shin-Tomei, the up line is an exterior design reminiscent of a port town in the Mediterranean Sea, and the down line is a design with the motif of the sea spreading below, attracting tourists It is a space where you can relax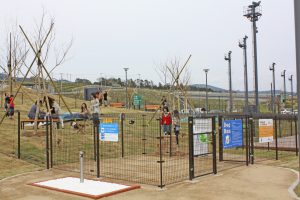 down line
Free space and small dog area 765㎡ dog run appeared
In addition to pet-only trash can, foot wash areas, pet-only toilets and sanitary facilities for dogs, there is also an agility competition for dogs and their owners. Our original agility is different from normal agility, so the height is lowered so that even the first dog can enjoy it, and the design is made for each service area. Foot washing area x 1, Pet-only trash box x 1, Pet-only toilet x 1, Dog walk x 1, A lamp x 1, Slalom x 6, Various dog run signs The down line is based on blue and white with a motif of the sea spreading under the eyes is. The dog run is undulating so that the dog can run around happily.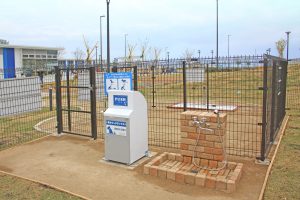 Shower and poop box
In front of the double door entrance, there is a dog shower for dogs to wash their legs and a dog-only trash can dog box for dogs.
< Agility > Walk Play
NEOPASA Suruga Bay Numazu based on light blue and white to match the appearance. Even dogs who are the first to experience agility can enjoy it immediately ♪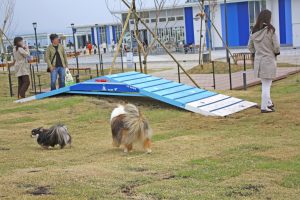 < Agility > A ramp play
The height is half of normal agility, so any dog can feel free to challenge. Bakery + dog cafe "Hakone Bakery-Select-" for customers with dogs Bread for dogs is also available.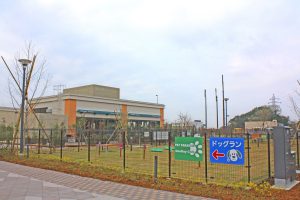 Up line
A free space and a small dog area with a total area of 457 square meters have appeared!
Like the down line, there are trash cans for pets, foot washing areas, toilets for pets, and sanitary facilities for dogs. Agility is calm in color according to the appearance of the building on the up line. Foot washing area x 1, Pet-only trash can x 1, Pet-only toilet x 1, Mushroom slalom x 5, Dog table x 1, Snake dog walk x 1, Grassland hurdle x 3, Dog run sign various The up line is a dog run that is long horizontally, the length in the horizontal direction is more than 35m, and dogs can also run. There is a dog toilet where the dog can be pee before entering the dog run, and charcoal beneath the white cobble stones, so that the deodorant effect is considered.