Suzuka Parking Area " PIT SUZUKA " Dog Run
The Shin Meishin Expressway opened on Sunday, March 17, 2019, and the Suzuka parking area opened. A dog run in this parking area is equipped with artificial turf, a dog toilet, a dog shower, a bench and a lead hook.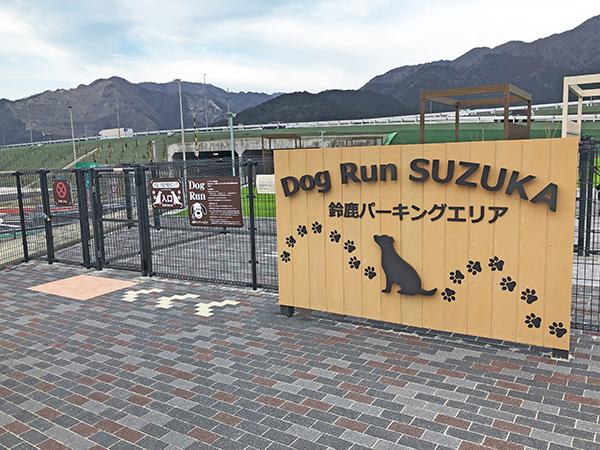 About Suzuka PA
Suzuka PA, a hub connecting the Chubu and Kansai areas, is a centralized facility that can be used from both the up and down lines. Nicknamed "PIT SUZUKA", commercial facilities include shopping corners, food courts, bakery cafes, etc. 9 stores have opened.
The dog run was born about 1,250 square meters, one of the largest on the highway. This dog run can be used from both up and down lines, and is divided into a large dog area and a small dog area.
Artificial turf < Base course >
This dog run is entirely artificial turf except for the entrance. This artificial turf has an antibacterial specification that allows dog runs to be used with confidence.
It has antibacterial activity against Staphylococcus aureus, MRSA, Escherichia coli O157, and Salmonella.
The durability of the artificial turf is also high, and high quality is maintained by polyethylene pile and polypropylene backing material. In addition, it is safe because it clears the "flameproof performance test standards" and has high self-digesting ability and does not spread easily.
Dog toilet < Washing pee type >
Dog shower < Brick type >
A dog-only toilet and shower were installed at the dog run entrance. Water flows from the toilet pole to clean the pee. There is no need to wash your pee with a plastic bottle, so you can easily use the dog run.
In addition to the hand shower, there is a "foot shower", which is a special shower for dogs, and has a function to flush the feet of dogs by flowing water from the feet.
By installing sanitary equipment at the dog run entrance, the entire dog run can be kept clean.
Poop box
Poop trash boxes are installed for each area of large dogs and small dogs in dog runs. Separating and treating dog poops with other garbage allows you to operate sanitary facilities.
Dog bench < Land hook type >
A dog bench where you can take a break with your dog. As a special specification of Suzuka PA, there are lead hooks on both sides of the seat plate, and lead strings can be hung on either side
Bone A color
Bone A color lead hooks are attached to the pergola pillars in each of the large dog area and small dog area. By attaching this lead hook, it becomes an accent, and you can see that there is a lead hook even from afar in bright colors.