DOG DEPT + CAFE Karuizawa Prince Dog Run
Agility A lamps and grass hurdles have been installed in the dog run next to "DOG DEPT + CAFE Karuizawa Prince" in Karuizawa Prince Shopping Plaza in Nagano Prefecture.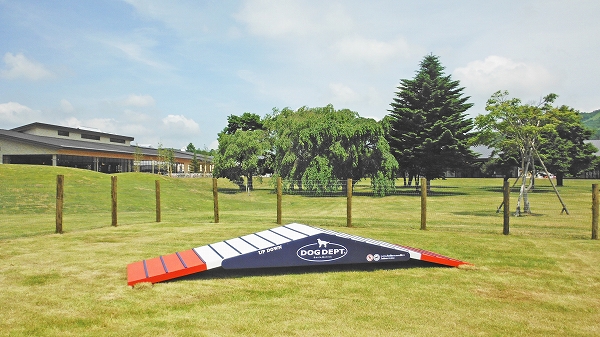 About Karuizawa Prince Shopping Plaza
A shopping mall located in a vast area on the south side of Karuizawa Station. In a location rich in nature, there are about 200 shops of famous brands, and "DOG DEPT + CAFE" has been renewed with a dog run and a cafe.
< Agility > A lamp
Agility is an obstacle competition where dogs and their owners work together.
This A ramp is a competition that goes up and down a slope in the shape of the letter "A". The climbing surface is non-slip, so it is safe.
In addition, DOG DEPT like original color, height is set lower than normal agility so that even the first person can enjoy.
Grassy hurdle
A grass-shaped hurdle playground equipment made of soft rubber, so it is safe to catch your feet. There is no need to set up every time like bar-type hurdles. There are also three different heights that can be combined according to your dog's athletic ability.