DOG GARDEN RESORT Nasu Dog Run
A ramp, rubber chip pavement, and wood chips were installed on a dog run in Nasu Garden Outlet in Nasu-Shiobara, Tochigi Prefecture.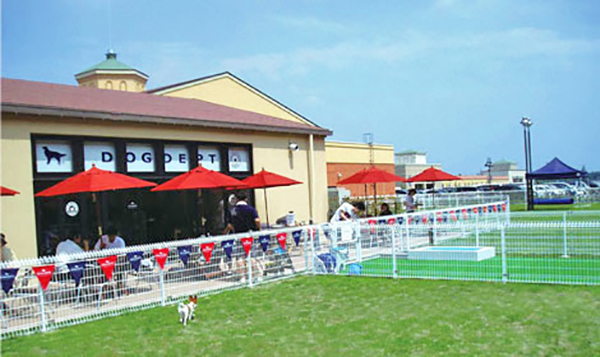 About Nasu Garden Outlet
An outlet mall opened in July 2012 in the Nasushiobara area of Tochigi Prefecture. The DOG GARDEN RESORT Nasu is fully equipped with a spacious dog run of 300 tsubo. You can eat while slowly watching the dog running around. The DOG DEPT SHOP in the mall has casual wear and other items. A spot where you can spend your day with your dog.
Wood chips
It is a safe chip that uses only natural tree of cypress from Tokyo and does not contain impurities such as drugs, nails and garbage. The chip is cut to a size of 10 to 40 mm. This results in a wood chip that is gentle on the doggy's feet without sharp or elongated tips. Wood chips have a deodorant and sanitizing effect and absorb and treat doggy pee. In addition, since it has a strong deodorizing and anti-mold effect, it does not attract fleas and ticks, which are the dominant enemy of dogs, and suppresses the growth of mold.
< Agility > A lamp
Agility is an obstacle competition where dogs and their owners work together. This A lamp has the original color of DOG DEPT, and its height is set lower than normal agility so that even first-time users can enjoy it.
○ Use time: 10: 00-20: 00  
* Dog run fee   
・ One 1,000 yen
・ Over tow 500 yen per one