MARUHA RESORT Maruha Drive In Utsumi Store
We have set up a dog run facility at "MARUHA RESORT Maruha Drive-In Utsumi" located in Minamichita-cho, Chita-gun, Aichi Prefecture.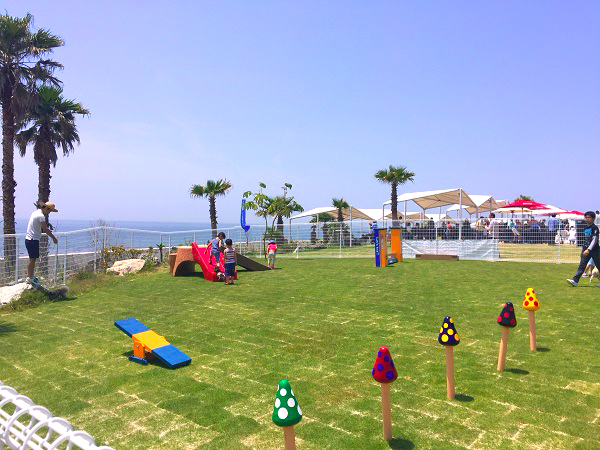 About MARUHA RSORT Maruha Drive-In Utsumi store
MARUHA RESORT Maruha drive-in Utsumi store opened on July 10, 2015 on the Minamichita Utsumi Coast overlooking Mikawa Bay and Ise Bay, all seats all outdoor weather BBQ place, BBQ in front of the sea The outdoor VIP booth and the BBQ, a private VIP room equipped with air conditioning, can accommodate up to 300 people.
M cafe, which you can easily drop in at the cafe, is also very popular. MARUHA DININNG on the 2nd floor offers mainly Western dishes using Chita beef hamburgers and steaks, and you can also eat shrimp fries, which are very popular in the restaurant.
It is a facility that can be enjoyed by young and old generations.
Maruha Resort Maruha Drive-In Utsumi store has created a new dog run to welcome dogs and their owners before the summer performance when many people gather on the Utsumi coast. This time, the dog run open event was held on May 22, 2016 (Sunday).
Our dog run facility has been set up in that dog run.
Dog shower combination < Brick type >
In addition to the normal hand shower, this dock shower has a full-featured function such as a foot shower that can wash dirty feet in an easy posture and a horizontal tap that can be used for multiple purposes. If you twist the faucet on the right side, water will come out of the hole below and you can wash your feet.
Dog toilet < Washing pee pole type >
For a dog with a large space where a large dog can easily fit, a pee pole with a flushing function, a horizontal faucet that is easy to maintain, and a drain with a large dish with a built-in basin that is hard to clog with dog hair. It's a toilet.
* When the button is pressed, water flows and the pole is washed. The water is automatically stopped after a certain period, so there is no need to worry about keeping it flowing.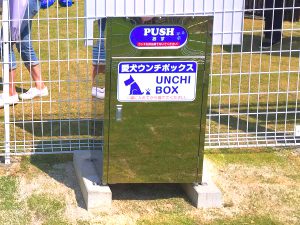 Poop box < Stainless steel type >
Stainless steel makes it durable and resistant to rust, is hygienic and has excellent durability. The stainless-steel mirror finish reflects the surrounding scenery beautifully.
Dog bench < Stationary・Run dog type >
A bench with a stationary Run Dog lead hook. It is convenient to connect the lead to this hook when the owner and the doggy take a break together. Here, we installed three.
Click here for more information on MARUHA RESORT Maruha Drive Inn Utsumi